This version is still in Alpha stage, we will be adding more features later
What's new about this version ?
Fixed No Recoil for WolfTeam Turkey
Changed Framework to fix script issues
Changed Menu toggle function [fixed flash problem]
Features :
No Recoil : Your Weapon will not move away from your Target Location.
No Spread : Your Ammo will not spread away from your Target Location .
No Weapon Sway : Your weapon sway will no longer affect your aiming & visibility.
Infinite Ammo : Gives you unlimited Ammo.
Shooting Speed [Ranged 0-100] : Changes your Weapon attack Speed, the lower the value the higher the speed your weapon is.
CrossHair [All in one] : Changes your Basic CrossHair into a mixed CrossHair.
Ice Wolf : Changes your Basic Wolf into Ice Wolf.
Always Headshot : while enabled, your attacks will score a headshot kill.
Team Kill : You will be able to kill your Teammates.
Instant Kill : Instantly kills your target.
God Mode : You will lose no Health.
Power Room : You can change weapons while in-game & Weapons cost no Points.
WallHack : Allows you to see targets behind walls
Chams : Allows you to see targets with different colors depending on Team Blue/Red
Return To Base : Allows you to return to base
Some Other Features Automatically Enabled :
Anti-Chat ban : Whenever you chat, you will not trigger WolfTeam's Spam system.
Anti-Report : Whenever a player reports you, it will not be sent to the game's System [Instead, it will be reversed back to the Reporter]
Anti-Hardware ban : Every time you open our Hack, your hardware is masked & Protected from WolfTeam's System.
How To Use ?
Please Refer To This Link : https://doshacks.com...oader/#entry218
Hotkeys :
Toggle Menu : Press END

Switch Features : Up Down & Right Left

Return To Base : Press X
Preview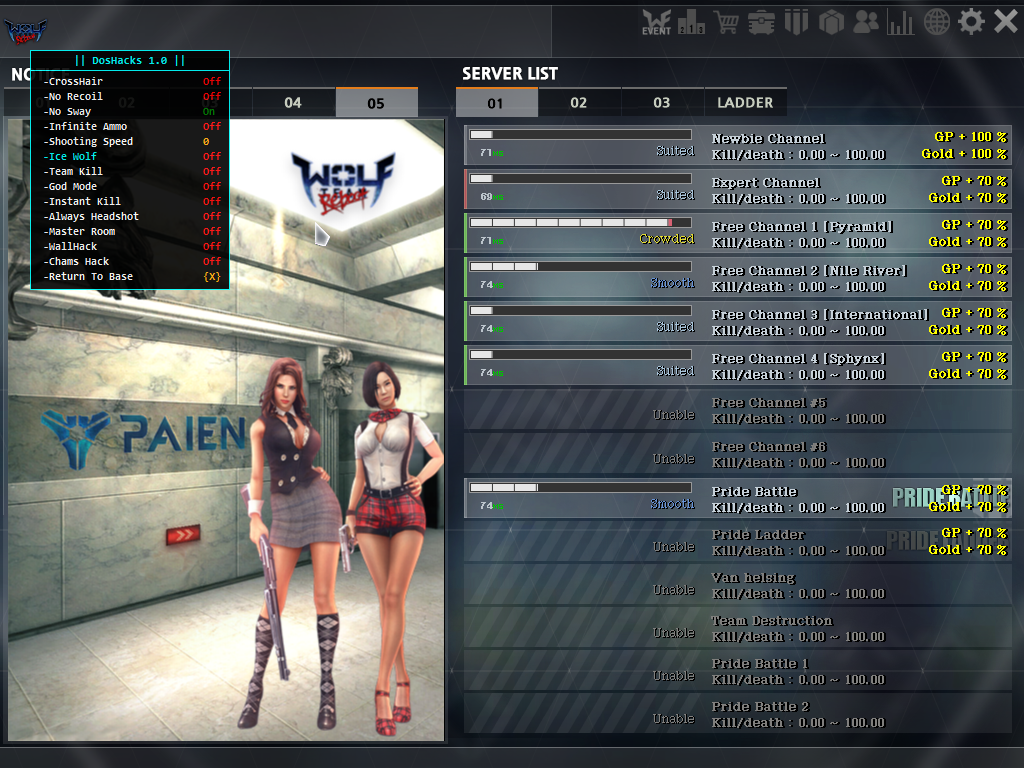 Have Fun And Don't Forget To Share & Like <3
Also Tell us what features would you like to have next ?
If you have an Error, Please Redownload